Germany Vs. Russia: Key Players To Watch In Women's World Cup Qualifying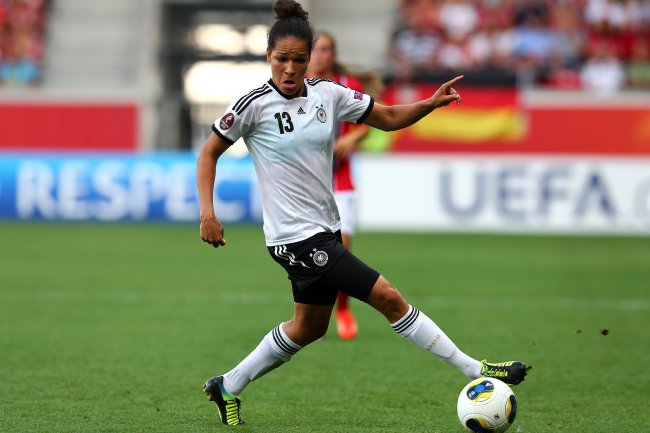 The hostsface tough opposition in a Russia side who were defeated just once in three games at the European Championship as they continue their steady progression. Who, then, are the players to watch out for? Dzsenifer Marozsan, Attacking Midfielder, Germany Martin Rose/Getty Images Germany have had some great attacking midfielders in recent years and, at just 21, DzseniferMarozsan appears as though she could eventually also reach those levels. The Hungarian-born midfielder won the Golden Ball award for best player at the 2012 U20 World Cup, per Soccer America , and has already made a good start to her senior career, scoring the goal that took Germany into the European Championship final. Just 5'7″ tall, the diminutive playmaker has great balance and footwork with which she looks to unlock defences. Marozsan could be a real star in women's football in the coming years. Celia Okoyino da Mbabi, Striker, Germany German Footballer of the Year in 2012,CeliaOkoyino da Mbabi already has 43 international goals at the age of 27 and is well on her way to writing her name into the country's footballing history. Okoyino da Mbabi scored a remarkable 17 goals in just 10 matches to help Germany qualify for the European Championship this summer and, while she scored just twice at the tournament, she remains the side's main attacking threat. Martin Rose/Getty Images A transfer to FFC Frankfurt this summer saw the forward move from her long-time club Bad Neuenahr and the hope will be that she can quickly pick up the form of the past couple of years. Nelli Korovkina, Forward, Russia Ismailovo forward NelliKorovkina scored four times in six appearances during the European Championship campaign, including qualifying, to establish herself as one of the young stars of Russian football. Now 24 years old, Korovkina's standout performance of the Euros came against England where she scored a header and also threatened to add a second with a wonderful curled shot that flew narrowly wide of the goal. Technically gifted and quick across the ground, she can cause the German defence problems if given the opportunity. Elena Terekhova, Centre Midfield, Russia EuroFootball/Getty Images Ryazan midfielder ElenaTerekhova is a key member of the Russian side, occupying a box-to-box role in midfield. Her experience and composure will be important assets if her side are to get anything from this encounter. With nearly 50 caps to her name, Russia will look to the 26-year-old in a match that is likely to see them come under intense pressure from the hosts.
Russia: What It Means
If you engage in the said propaganda in the media or on the internet, the sliding scale of fines shifts: for individuals, 50,000 to 100,000 rubles; for public officials, 100,000 to 200,000 rubles, and for organizations, from one million rubles or a 90-day suspension. If you're an alien. Foreign citizens or stateless persons engaging in propaganda are subject to a fine of 4,000 to 5,000 rubles, or they can be deported from the Russian Federation and/or serve 15 days in jail. If a foreigner uses the media or the internet to engage in propaganda, the fines increase to 50,000-100,000 rubles or a 15-day detention with subsequent deportation from Russia. If you thought the wording was a little vague, Grekov agrees. Because the law is spelled out so broadly as to what counts as "propaganda," literally anything that's even the remotest positive or even neutral reference to homosexuality is suspect. It could be two women holding hands as much as it could be a debate on the relationship between Alexander the Great and Hephaestion. Paintings of Jupiter abducting Ganymede could be seen as corrupting. And don't think for a second that foreigners are exempt. No matter whether you agree with it or not, a visitor is always subject to the laws of the country he or she is in, be it Russia or the United States. To prove the point, Russian authorities already incarcerated three Dutch tourists in the Arctic city of Murmansk who were making a documentary on LGBTQ rights in Russia. They found out quick, needless to say. Of course, this has castigated Russia by press both inside and out. I mean, my God, even National Geographic got in on the act, throwing up a list of the most deadly countries in the world for gays and lesbians — and when was the last time you heard of that magazine jumping on the political bandwagon? I just got it for the pictures.