850 Snakes Part Of New York Man's Home Business, Authorities Say
New York Photos of the Week, September 14th – September 20th
Richard Parrinello, of Brookhaven, New York, kept the snakes in his detached garage, all neatly stacked in containers and at the right temperature, according to Roy Gross, chief of the Suffolk County SPCA. Burmese pythons are illegal in New York, and Parrinello's were taken from the house to a reptile sanctuary in Massachusetts while the rest of the snakes are still in his garage, according to Jack Krieger, communications director for the Town of Brookhaven on Long Island. Gross said all the snakes appeared to be in good health and there was no animal abuse or neglect. "It was a well-maintained facility, it was very clean and organized, it was a business," Krieger said. By the numbers: Pets Parrinello kept an online website, "Snakeman's Exotics," which advertised a collection of pythons, boa constrictors and hognose snakes available for sale both domestically and internationally. After weeks of investigation into alleged workers compensation fraud, the town of Brookhaven, the U.S. Fish and Wildlife Service, the New York State Department of Environmental Conservation, Suffolk County Police and the SPCA executed a search warrant in Parrinello's home, where he lives with his wife and 10-year-old son, according to a news release from Brookhaven. Undercover investigators spoke to Parrinello, who claimed to have $500,000 in inventory stored on the premises, including snakes, turtles and turtle eggs, the news release said. Authorities also say they found a few tarantulas and a couple of freezers with frozen mice and alligator carcasses. Krieger said Parrinello wasn't arrested or charged with any criminal activity, but he was running a business out of his residence in a residential area, which is a violation of the town code. Town Law Department officials are still investigating and will likely issue numerous violations in the coming days. When reached by telephone, Parrinello declined to comment. "What makes this case especially egregious is that this individual was allegedly operating this reptile business out of his home, posing an unknown threat to the neighbors of this community," said Brookhaven Supervisor Ed Romaine. Peter Constantakes, spokesman for the DEC, said Parrinello was interviewed and issued two summonses for possessing wild animals without a permit and for possessing alligator parts without a permit, each one carrying a maximum fine of $250. The U.S.
The crowds for new iPhones is draw a mix of Apple diehards and more casual fans, plus people hoping to resell the devices for a profit. A few marketers are also on hand, hawking their wares to the masses waiting on line. In New York, one man wearing basketball shorts was handing out cards and asking people to check out his son's app. Staffers from trade-in service Gazelle walked around handing out free pretzels. Another man, who was not on line, just kept screaming, "Is anyone excited for the iPhone? Is anyone excited for the iPhone?" The crowd seemed mostly annoyed. Some people even paid line-sitters by the hour to grab an early spot. Why the fuss? For the first time, Apple ( AAPL , Fortune 500 ) is offering two new iPhones: the flagship 5S and the cheaper, plastic iPhone 5C. The iPhone 5S is similar in appearance to last year's iPhone 5. The new device is faster than its predecessor, however, and it features hardware upgrades like a beefed-up camera and a processor that measures motion data. The iPhone 5C comes in several different colors.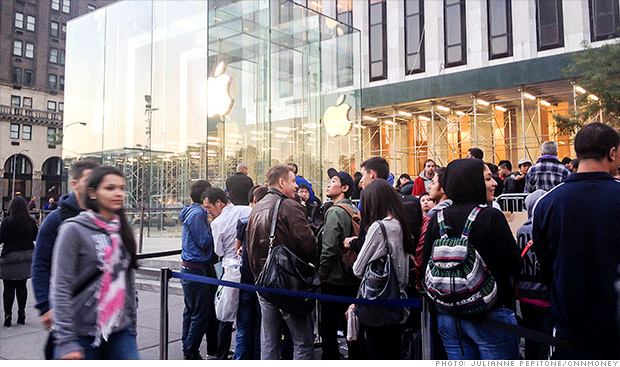 Guys just have to keep their heads up and look at the good things and look at where we've got to make improvements." Manning and his teammates are hoping history repeats itself Sunday, almost exactly one year after the Giants were able to make plenty of improvements in a Week 3 trip to Charlotte amid a similarly shaky start. New York came into the game 1-1 after a disheartening season-opening loss to Dallas and a comeback win over Tampa Bay, then routed the Panthers 36-7 that Sept. 20. Manning threw for 288 yards and a touchdown with no interceptions and the Giants rushed for 125. The defense, which had given up 51 points in the first two weeks, allowed only 327 yards and intercepted a frustrated Cam Newton three times. Carolina (0-2) hasn't gotten better results than New York so far, scoring 30 points, though the Panthers have been more competitive. They led Seattle in the fourth quarter of their opener before losing 12-7 and suffered a heartbreaking 24-23 defeat to Buffalo last week on a two-yard touchdown pass from EJ Manuel with 2 seconds remaining. That capped an 80-yard drive during which the Bills had no timeouts. "It's time to get over the hump," coach Ron Rivera said. "We've been through this – and that is the thing that is disheartening. You'd like to believe that we've gotten to the point where we've learned from these things and now it's about getting things done." Since Rivera took over in 2011, the Panthers have lost 10 games in which they've held a lead in the fourth quarter – tied with Philadelphia for most in the league. Newton was sacked six times Sunday, and he's struggled in the early going with an 86.4 rating. "With us being in so many tight games, you would think we would know by now, but it's still a learning and maturing thing for us," Newton told the team's official website.
New York at Carolina
(Kevin Hagen for The Wall Street Journal) Emmanuel Perrotin poses for a portrait in the New York branch of his gallery, Galerie Perrotin, among sculptures by Paola Pivi. Mr. Perrotin, 45 years old, is well-regarded in the art world for being quick to identify emerging talent. (Andrew Hinderaker for The Wall Street Journal) New York Police Department Commissioner Raymond Kelly holds an AK-47 recovered in an undercover operation during a news conference on Thursday. Two men were charged with illegally selling more than four dozen guns to an undercover detective. (Keith Bedford for The Wall Street Journal) A guest communicates through gestures while participating in a four-course silent dinner at Eat in Greenpoint, Brooklyn on Sunday. It was a pilot run for what the restaurant hopes to make a monthly event. (Keith Bedford for The Wall Street Journal) Seferino Cotzojay, assistant winemaker at Bedell Cellars, loads harvested grapes into a crusher on Wednesday. Mr. Cotzojay has been working at Bedell since 2005, when he answered an ad for a worker that had been posted in the local paper. (Gordon M. Grant for The Wall Street Journal) Michal Litwiniec, left, Marek Otwinowski, Pawel Czepukowski and Igor Gawlikowski, members of the Polish group Karbido, rehearse at their musical table, which has a bass attachment and hidden strings. The group performs in the U.S. for the first time this week.